We recommend UK customers to contact us at order@rc-factory.eu before paying for their order.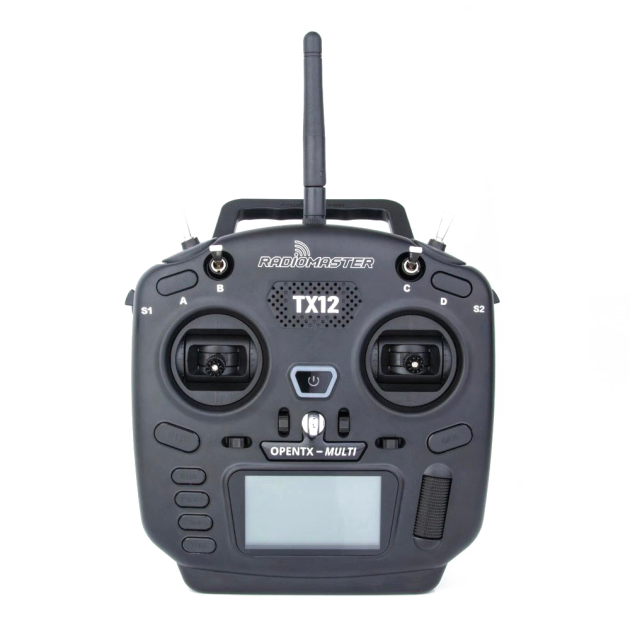 Radiomaster TX12 with up to 16 channels is a small and compact radio with open source firmware OpenTX. The TX12 transmitter uses an integrated, multi-protocol transmitter module with a CC2500 chip. The module supports Corona, Hitec, Futaba S-FHSS, Frsky D16 / D8, RadioLink, Graupner HoTT and many more protocols (more information
here
). The transmitter has a JR slot and can be expanded with other external transmitter modules.
The supply voltage of the transmitter is 6.6-8.4V DC. The transmitter package contains a cage for two 18650 batteries. The batteries are not included in the package. They can be charged via the USB-C connector on the top of the transmitter, which is also used to connect to a PC. A pleasant feature is the detachable antenna and tilting holder, which saves space in case of transport.
The transmitter is delivered in mode 2, which can be changed to mode 1. The firmware update module is integrated directly in the transmitter. Firmware updates require specific user knowledge and should not be performed by a complete layman. Please note that changes to the firmware and software by the user will void the statutory warranty.
Key Features
Size: 170x159x108mm
Weight: 363g (without battery)
Transmission frequency: 2,400GHz-2,480GHz
Internal multiprotocol module
Power batteries: 2x 18650 Li-ion (batteries not included)
Number of channels: 16 (depending on the receiver)
Display: 128x64px monochrome
Quality potentiometers
Firmware update: Support online USB-C / SD card offline
Protocols: Corona, Hitec, Futaba S-FHSS, Frsky D16 / d8, RadioLink, Graupner HoTT and more
Package Includes
1x Radio
1x Antenna
1x USB-C Cable
1x Liion battery case