We recommend UK customers to contact us at order@rc-factory.eu before paying for their order.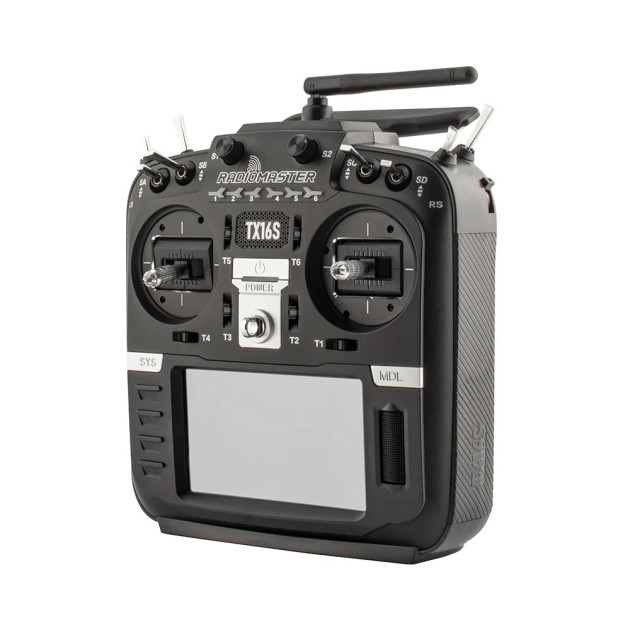 Radiomaster TX16S Mark II
Radiomaster TX16S is a multiprotocol transmitter with open source firmware EdgeTX, support for telemetry data transmission and Hall sensors, which ensure contactless position sensing of cross controllers. This technology brings maximum reliability and sensitivity, as there is no risk of wear due to the absence of mechanical elements. The radio uses an integrated, multi-protocol transmitter module that supports Corona, Hitec, Futaba S-FHSS, Frsky D16 / D8, RadioLink, Graupner HoTT, Flysky and many more protocols (more information
here
). The transmitter has a JR shaft and can be expanded with other external transmitter modules. The Radiomaster TX16S in Hall design is probably the best radio price / performance ratio. The internal memory of the radio can be expanded with an SD card, so a large number of models can be stored.
The radio is delivered in a foam case, which protects it during transport. The power supply of the transmitter is solved by 2S Li-ion or LiPo batteries. It can be charged via the lower USB connector. The upper USB connector is used to connect to a PC. All information is displayed on a 4.3 "touch screen. The transmitter comes standard in mode 2, which can be easily changed to mode 1. The module enabling firmware update is integrated directly in the transmitter. Firmware update requires specific user knowledge and should not be performed by a complete layman. Please note that change of firmware and software by the user will void the legal warranty.
Key Features
Size: 183x212x66mm
Weight: 736g
Battery slot size: 25x52x97mm
Power batteries: 2x 18650 Li-ion or 2S Lipo (batteries not included)
Number of channels: 16
Display: 4.3 "480x272px
Quality Hall gimbaly
Multiprotocol transmitter
Voice features
Vibration function
Memory: 16MB (expandable by SD card)
Package Includes
1x Radio
1x USB cable
1x Manhole for 18650 Li-ion batteries