We ask UK customers to contact us at order@rc-factory.cz before placing an order.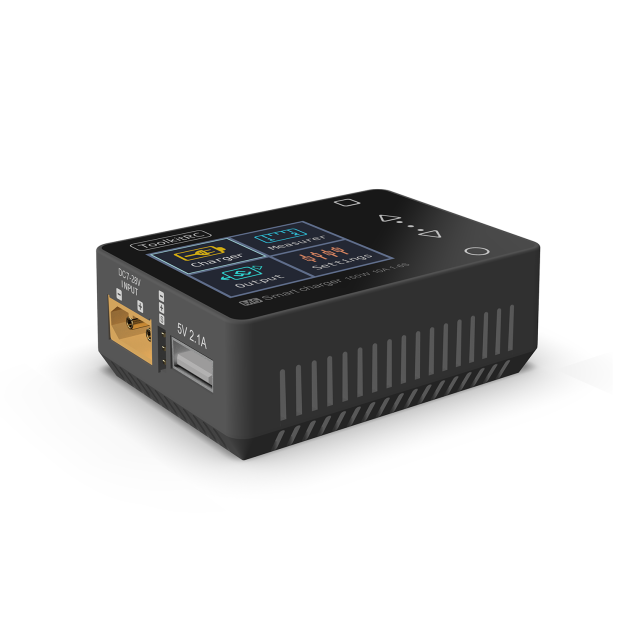 ToolkitRC M6 is a handy small charger and workshop assistant in one. The charger has power up to 150W and can charge 1-6S LiPo, LiHV, LiFe, Lion batteries. It also supports charging NiMH and Pb batteries. The batteries can be charged, discharged or set to storage mode. The ToolkitRC M6 does not have an integrated power supply, so it must be powered by an external battery or a 7-28V power supply. The charger can set the minimum input voltage, so you don't have to worry about draining the supply batteries too much. ToolkitRC M6 also has an integrated USB port for charging the phone and other accessories.
It also supports the function of a DC power supply with adjustable voltage 1-28V and current 1-10A. The ToolkitRC also works as a battery meter and balancer without external power. Just plug the battery into the output port and connect the balance connector. You will also appreciate the ability to measure and transmit PWM / PPM / SBus signals so you can use the M6 toolkit as a servo tester. Everything is clearly displayed on the 1.8" color display.
Key Features
Input voltage: 7-28V DC
Supported battery types: Lipo, LiHV, LiFe, Lion, NiMh, Pb
Charging power: 150W (0.1-10A)
Discharge power: 8W
USB: 5V@2.1A
Size: 68x49x26mm
Weight: 80g
Display: 1.8 "TFT RBG, 160x128px
Color: black