Sales and shipping ARE NOT INTERRUPTED  !!   You can choose a Christmas present for yourself or your loved ones.
MG92B Digital servo. You can hardly find more valuable servo than MG92B! Small size, yet with 3.5kg powerful torque. MG92B is metal gear, digital, 3.5kg torque, double ball bearing and with alloy case in the middle for better cooling.
This little servo is a great choice for airplane both classic and 3d, helicopter.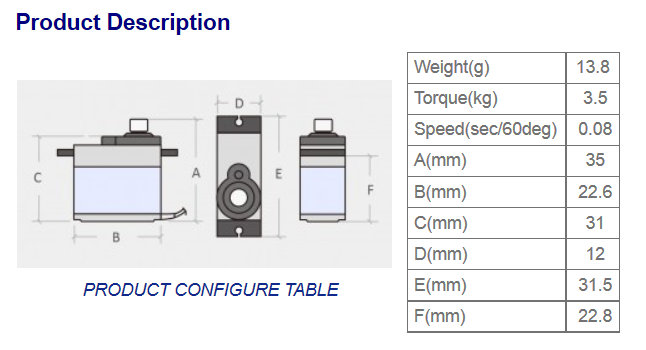 Key Features
Weight: 13.8g
Dimensions: 22.8x12x31 mm
Torque: 3.1kg/cm (5.0v); 3.5kg/cm (6.0v)
Operating speed: 0.13sec/60 stupňů (5.0v);0.08sec/60 stupňů (6.0v)
Operating voltage: 5.0~6.6v
Dual ball bearing
Operating temp: 0 - 55℃
Servo plug: JR (JR and Futaba)
Deadband: 1us
Servo lead length: 25cm